The first time people hear about an online driving school, they might be skeptical. After all, how can people really have a driving school that operates entirely online? People still need to actually drive in order to really get the feel of the road and in order to see what it's like to truly get behind the wheel. Finding out that the driving site is actually a porn site should clear up everything for everyone. After all, the Internet has been synonymous for porn for a long time. The Internet is also synonymous with online education. Finding a way to combine the two really makes sense, and you wonder why people hadn't thought of it previously.
A Setting for a Porn Website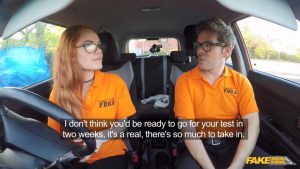 This Fake Driving School has very little in common with a real driving school, which is good news. It's great that they tell us this immediately, or there might have been some truly terrible confusion. This is a porn website that uses driving school as its main setting. Porn videos need to have something resembling a plot and characters. Some people wonder why this is, pointing out that lots of people don't really care about the plot or characters of any porn story.
However, the setting, the plot, and the characters can help a lot of people get into the mood. The time and the place for a particular porn video really can make a huge difference for a lot of people. You'd think seeing two hot people having sex would be great no matter where it happened. However, for some people, it really only approaches the maximum hotness level if the two hot people are screwing in a car and they're supposedly a teacher and student pair, but not really. Hey, there's nothing wrong with all fetishes as long as they're practiced ethically. This is a porn website that can give a group of customers exactly what they want and need.
You only have to pay a buck in order to start your trial membership. This might seem like a lot for the people who are used to getting porn for free. Everyone else will be complaining about these kids today and how spoiled they are with their desire for unlimited free porn. People who are willing to pay for quality can gain access to sites like this. It costs less than twenty dollars a month to enjoy it all if you want to stay. When you factor in the costs and the benefits, you should take into consideration just how many fetishes are involved with a site like this and try to work out the price per fetish. In units of 'price per fetish,' it's clearly a bargain.
Porn Sites Today
Trying to actually grab people's attention is tough in a porn world where anything goes. This is a website that should still manage to get people talking because of the skill of the models and the unique subject matter. It should be worth it for plenty of visitors.